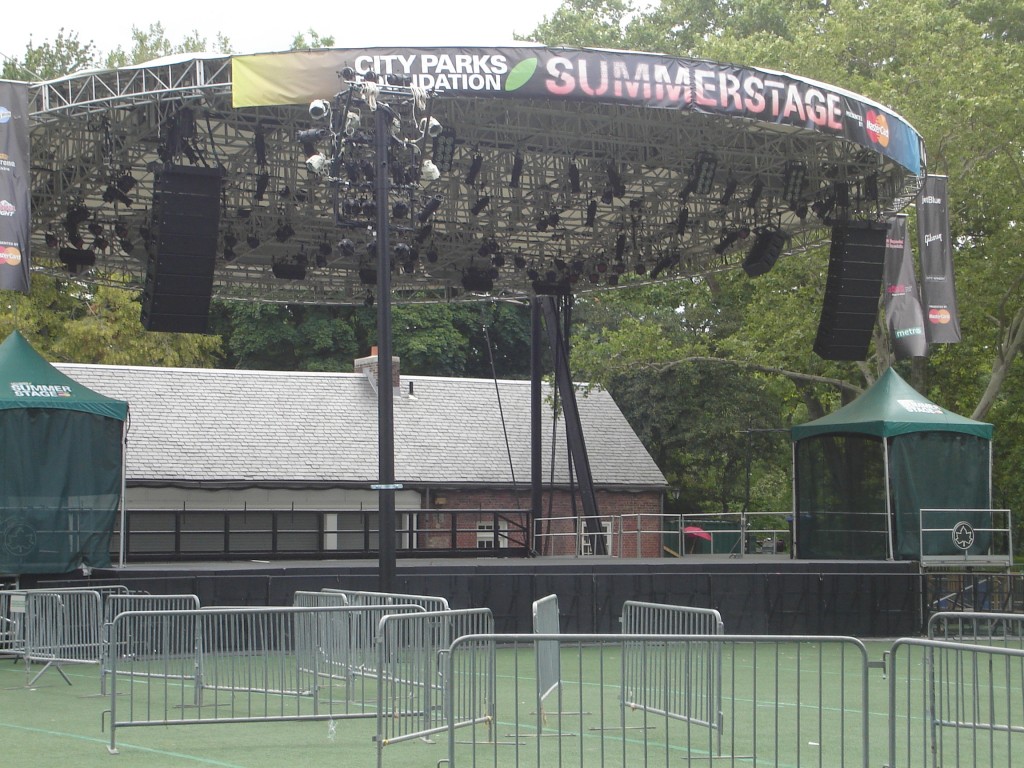 There are many possible purposes behind student travel. Many are educational, some not. Around here, we build tours around all kinds of themes – black history, art, literature, theater, and more. But on my tour of New York City, I had another idea.
Our tour was surrounded by live events, though we were always just ahead or behind the big moment. We saw several live performances (theater mostly, Broadway, and the Blue Man Group), but we stumbled onto the set of several more scheduled soon after we visited their locations. And after experiencing that a couple of times I realized how exciting it would be to combine the tour of the set with the live performance, to build a trip around an event and pad it on either side with exciting attractions within the event's happy theme.
I took this picture at the Good Morning America Summer Concerts stage in Central Park. It was the day before a famous performer would be on stage with crowds and crowds of people on the grass to see the show. It was a strange near-miss kind of feeling to stand in a quiet, empty space in Central Park knowing that in less than 24 hours it would be teeming with people, loud music, adoring fans, and applause. Even more, it would be filled with thousands of people living a once-in-a-lifetime moment. Somehow, just picturing it, made me feel that I was living one.
Our next close call happened at Radio City Music Hall where the stage was being set for that night's concert. In fact, our guide told us we had only just missed the sound check. It was thrilling, though, to see the sunbeam-style lights radiated above us in practice for the show even though most tour groups don't get to see the famous lights illuminated during the day. Again, we were technically going to miss the big event, but being there behind-the-scenes during the preparation, that was the thrilling thing for me.
With both close calls, so to speak, I couldn't help picturing the excited people who were going to experience the actual performances for these two concerts. I imagined mother-daughter duos, groups of friends, school clubs – all coming to this exciting city for one main purpose – this concert or event – and then having hours before and after for sightseeing and strolling on the streets I'd come to love after only a few short hours on them.
That's when I realized what a perfect theme this would make for group travel tours. Find an event – something you can all agree on as worth the money and the crowds. Enjoy that and then bask in the hours that stretch around it, giving you all the time in the world to discover the location that's hosted the amazing event. We tend to pack our trips too full with our to-do-and-see lists. So try this instead: One event, hours of anticipation, hours of relaxation afterward to just talk about the fun.