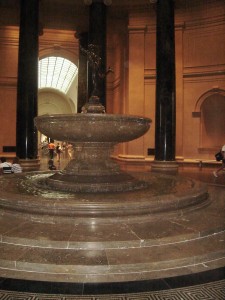 I had such a full itinerary of museums when I visited Washington DC that I feel like a bit of an expert on them – if all you want is a very wide overview. After all, the one thing I can't tell you is how you will feel when you're there and which museum will end up being your favorite and why. No one can tell you that. You can't even know it yourself, until you're there.
I found myself extremely overwhelmed by the third or fourth museum on our very jam-packed list. Not by the beauty or the amazing exhibits but by the sheer volume of them and the complete inability to decide where to begin. I knew my mission, of course, along with other members of my travel company, was to see as much of each museum as possible and to visit several of the attractions we most often include on itineraries for Washington DC group travel tours, student tours, etc. This, of course, included many of the Smithsonian facilities as well as other amazing museums in the area. Many of them. Thus, my small museum overdose by the second day.
We had spread out, each of us with a list of the Smithsonian museums we should visit. We had to include several in a short time period, with the goal that we would get an idea of what they had to offer and how they were unique. (For instance, many of the museums offer food courts, and we wanted to compare the space available in each and the menu.) After one full day of attractions, including many museums, by the time I walked into the first of the Smithsonian facilities on my itinerary, I think I was fried.
Did you know the Air & Space Museum is the most visited museum on the planet? I could see why the moment I entered. I was impressed by the many exhibits, most of them larger than life. They were nicely spaced apart as well. But there were so many ways to take in all the information – literature, video, photographs, artifacts, even walk-through pieces from air and spacecraft. I didn't know where to begin, especially knowing that I had a limited amount of time and should only hit the highlights.
I finally just moved forward and walked through several of the displays. I read some of the literature here and there. I saw enough to know the museum was amazing, simply wonderful, and that student groups would love every minute there. Even the souvenir shops were bigger and more amazing than those I'd seen elsewhere. Still, I didn't feel like I really took it in. And the overwhelmed feeling never faded, compounded by the knowledge of too little time.
Leaving the Air & Space museum, I walked across the National Mall, the small gravel crunching beneath my feet. It was a bit of a detour and not originally on my list, but I couldn't resist the beautiful, pillared building and soon stepped inside the National Gallery of Art. Walking inside was like breathing again. After the hundreds of exhibits at several crowded museums before, here I relaxed around the wide open space and simple display of art around me. I walked through room after room, sparsely designed with almost no furnishings, and I viewed one painting after another – with nothing but the art to speak for itself.
My experience was due to several factors, of course. One, I was overwhelmed. And I have a couple tips from my experience. First, never try to take in too many museums in such little time. Instead, choose from among your greatest interests. Go online and view the museum descriptions and some of the exhibits. Put on your itinerary the museums whose themes interest you the most. But, also, be brave and throw in one museum outside your normal area of interest. The surprises are sometimes the best part of travel.
For me, the National Gallery of Art was both of those things. It wasn't on our itinerary, so it was a pleasant surprise. But art is also the subject I'm most drawn to, so it fit that I felt most in my element there. Find a combination that works for you. Spread out a few great museums in a two-day time period. Give yourself plenty of time to enjoy them, and you should have the perfect experience.