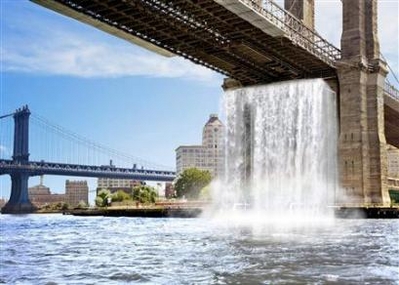 If you are always looking for a new reason to visit your favorite cities, I've got a current one for New York you should consider. Now through October 13, the Public Art Fund is sponsoring four man-made waterfalls in the New York City waterfront. They are located under the Brooklyn Bridge as an artist shows us in this picture, Governors Island, Pier 35 in Manhattan, and Piers 4 and 5 in Brooklyn. They are between 90 and 120 feet tall, illuminated at night and running from 7 a.m. to 10 p.m each day.
Apparently the falls are completely green with a filtering system to protect the aquatic life. The building practices and energy for the falls are also eco-friendly. Wow, it takes a lot to be considered worthy art these days – you have to be beautiful, highlight a known tourist attraction for your given city and be green? Leave it to New York city to accomplish all three.
The Circle Line and the Classic Harbor Line's Manhattan have both added tours specifically designed for a waterfront view of the falls. Another great way to see them from the water? The Staten Island or Governors Island ferry. Public transportation never looked so good. There are also several places on land to view the falls, and you can find maps, information, and interviews with the falls' designer at the NYC Waterfalls website.
There were already plenty of reasons for New York City educational tours, but it's always exciting to add an attraction to your trip that won't be there the next time. Take it from me. When I visited Orlando once, the Disney castle was all dressed up like a birthday cake. I was disappointed at the time (Disney World's 25th anniversary), because I missed the familiar fairy-tale blue I remembered. But now, I love the idea that we were at the Magic Kingdom "when". This would be like that. Without the Pepto colored turrets of course.