Another destination on my list of "the places we all dream to go" is Hawaii. Here is a link to the song that confirms my belief. It's Somewhere Over the Rainbow digitally mixed as a duet between Jason Castro of American Idol and Israel Kamakawiwo'ole.  It's a beautiful version of the song, and the video shows pictures of Hawaii, many of them actually showcasing a rainbow.  I think the sky is prone to showers at any given moment in Hawaii, making rainbows possible often.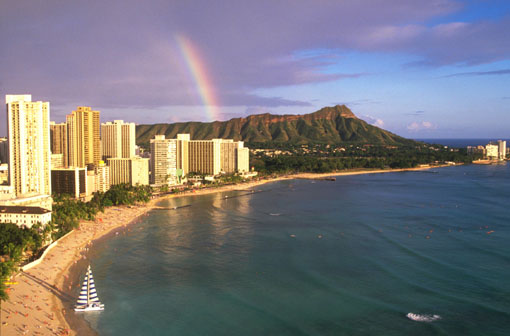 Hawaii is actually six different islands, some more popular than others.  I think it's the colors that seem the most out of a dream.  Visitors say Hawaii has colors most of us never see and could not begin to describe.  The climate is of course one of Hawaii's most promising attributes for those of us who actually have to endure winter.
But rainbows and beach clothes aside, it's the varied activity that keeps Hawaii at the top of tourism favorites lists.  This a place for any kind of vacationer.  If you just want to discover a new beach twice a day and compare them based on the colors of their sand and the strength of the waves, this is the island for you.  If you're more the hiking, hours worth of granola in your back-pack, water bottle strapped to your shorts kind of vacationer,  you're also in luck in Hawaii's gorgeous mountains. Thrill seeker?  Try the helicopter rides, scuba diving, and swimming with dolphins.  If the latter is too controlled for your tastes, try a snorkeling cruise where you never know what you might see and you're free to search for it at your own pace.  The Pearl Harbor memorial is a beautiful educational experience and not to be missed.
When I watch the video above, I just believe that Hawaii will live up to our dreams.  It's the perfect place to celebrate.  Consider Hawaii graduation trips for instance or a destination wedding.  It's the perfect place to escape.  And it's the perfect place to turn dreams into reality.